More lessons learned at the White House
When the White House calls and invites our Brainfood chefs to visit their kitchens and help prepare food for an upcoming event it's impossible to say no! As a staff of youth development workers we are constantly working to create activities for our youth to learn life skills and provide them with opportunities where they can use their transferable skills in areas outside of our kitchens. Visiting the White House and working side by side with their chefs provides an amazing opportunity for our youth to meet culinary professionals and caring adults who can reinforce what we teach in our kitchens.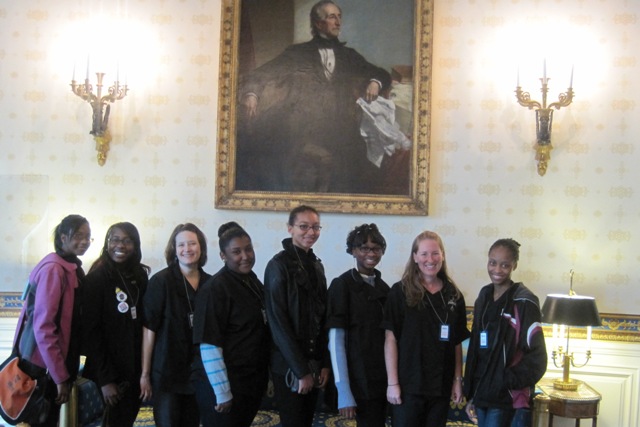 Knowing that there would be lots of prep work needed for the upcoming Halloween event, the White House asked that we bring a second group of students into their kitchens on Sunday as well. Pastry Chef Bill Yosses met our group of 6 Brainfood graduates along with a Brainfood volunteer and staff member at the gate bright and early on Sunday morning. On the way to the kitchen, Chef Bill took us up to the main level and showed us around. Since there are no public tours on Sunday we got a rare treat of a private tour by the Executive Pastry Chef. As we walked from room to room and Chef Bill pointed out famous paintings, we were all struck by the amazing architecture and decorations of the rooms.
We then headed down to the kitchen to get to work. Our task today was to continue to stuff the Halloween goodie bags. We quickly set up two assembly lines and began assembling the bags. Open the plastic bag, carefully add the Orange White House Cookie (try really hard not to break it!), pass. Add the Presidential M&Ms, pass. Add a scoop of dried fruit, pass. Tie a red, white, and blue ribbon and place the completed bag on a tray. Repeat, repeat, repeat……
Around 11:30am we finally found the bottom of the cookie pile and were rewarded with a lunch break! After our tummies were full from a delicious lunch of southern BBQ, we got an unexpected tour of the White House vegetable garden. Chef Bill walked us through the garden pointing out all the different plants and told us about how some of the seeds came from Thomas Jefferson's property in Virginia. He also showed us the compost bin and the beehive and explained how honey is made. After a few pictures on the South Lawn, it was back to work.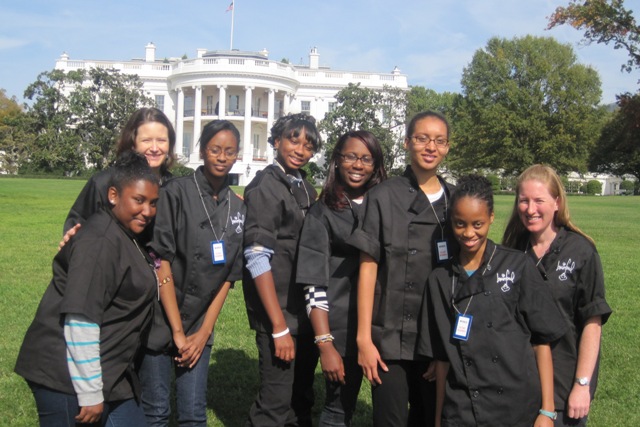 Since we had run out of cookies to put in bags we were given a new task: decorating the cookies. This was a bit of a scary proposition as we had been looking at the beautifully and perfectly decorated cookies all morning. Could we have the delicate hand to make the black piping just perfect? Chef Bill gave us a pep talk and walked us step by step through the process from how to fill up our pastry bags to the tricks to making a straight line on the cookie. After a collective deep breath, we all stepped up and tried. After a few practice cookies we were off and running and our cookies looked awesome! We went from a chatty bunch to a quiet focused team. We encouraged each other and shared our newly learned tips. "Try to do the big rectangle first then the detail on the top" one Brainfood chef shared. "Use your left hand to guide your tip, it makes it so much easier" said another.
Once all the cookies had been decorated and our work space had been cleaned, it was time to bid adieu. We thanked Chef Bill for an amazing day and headed to Lafayette Park. As we sat in the park with the White House at our backs, I asked all our students to reflect on their experience. Below they share their favorite part of the day, the skills they used, what surprised them, and how want they learned at Brainfood helped them.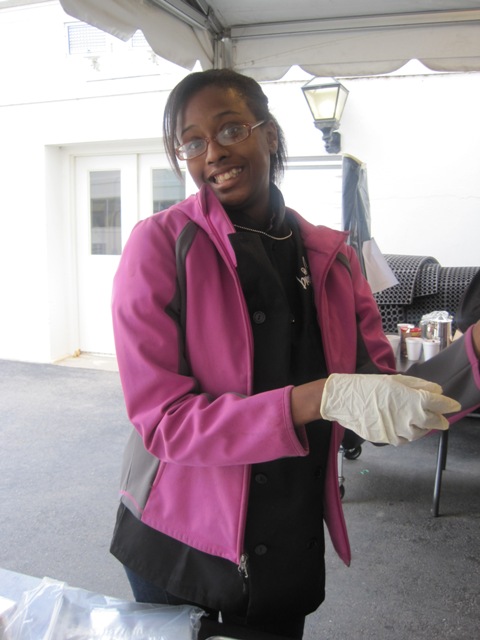 "My favorite part was walking through the vegetable garden! I used the skills of decorating. The thing that surprised me was that we worked outside. I learned patience at Brainfood that helped me today." -Danyelle R, 11th Grade, School without Walls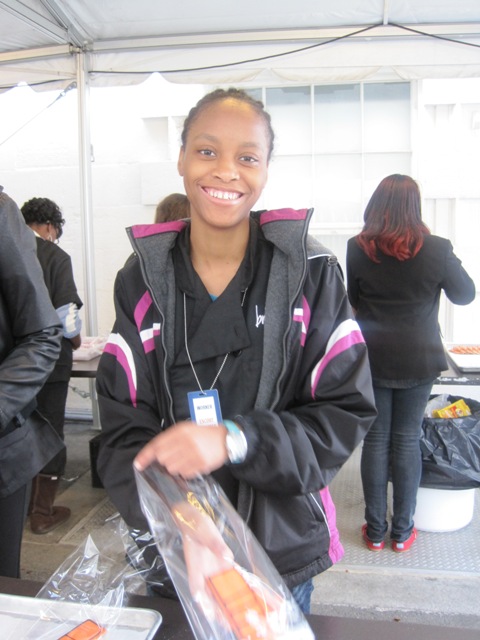 "My favorite part was touring outside of the White house and meeting Chef Bill and Reggie, the President's Assistant. I enjoyed helping to pack cookies and decorate them. What surprised me is that the kitchen is so small!" -Sania R, 12th grade, Friendship Collegiate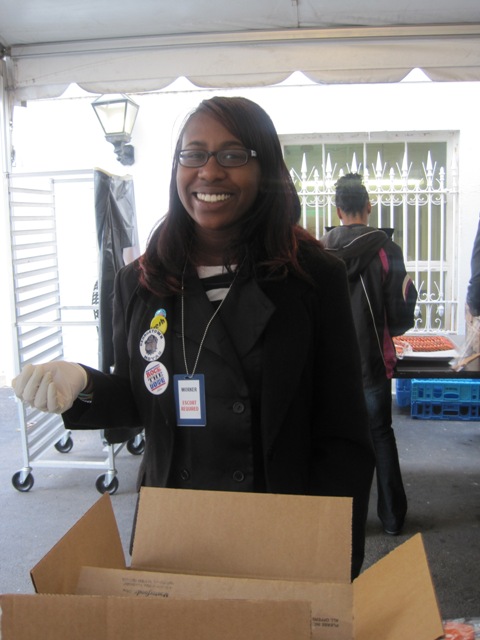 "My favorite part was seeing the White House. The skills that I used was listening skills and I was surprised with seeing how smalls the house actually is!" -India G, 11th grade, School without Walls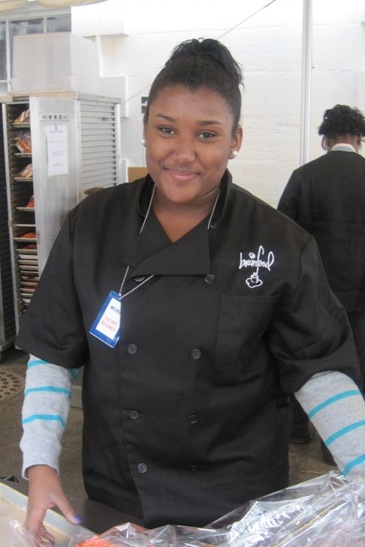 "My favorite part was definitely the tour we got from Chef Bill. It was really cool! I used my assembly line skills today. What surprised me was how nice everyone was. What I learned at Brainfood helped me a lot today because if I didn't have those skills then I think I would have really been lost. Thank you so much!!" -Maya W, 10th grade, Wilson High School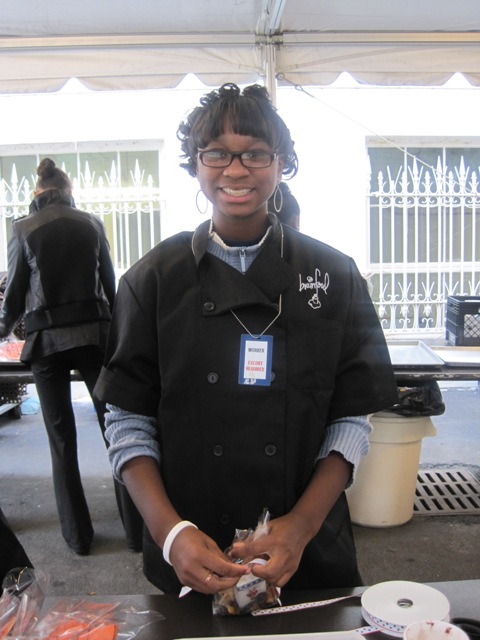 "I liked helping the staff make cookies. The skill that I used was how to put frosting on the cookies. What surprised me was how long it took to frost and decorate the cookies." -Simone B, 9th grade, Caesar Chavez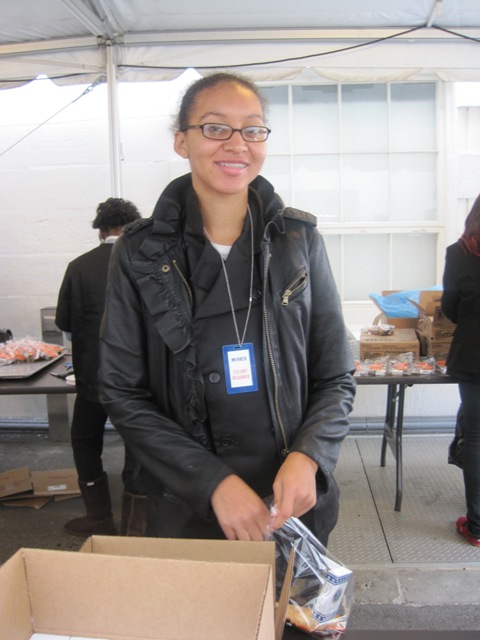 "My favorite part was a tour of the various places (state rooms, garden, kitchen). The skills I used was piping for the cookies and being in an assembly line. I was surprised that they used the decaying plants at fertilizer for growing plants. What I learned at Brainfood that helped me was being patient when it comes to food and follow directions as they were given." -Tyler W, 10th grade, St. Andrews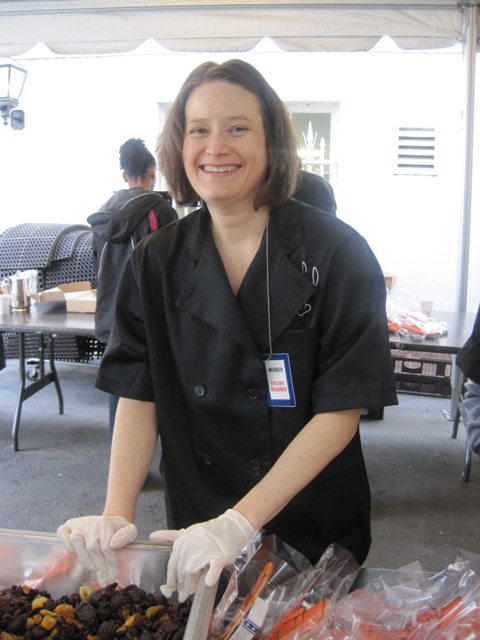 "It was neat to see the White House kitchen and vegetable garden, I think we all experienced first had how much work goes into a White House event. It was great to see the Brainfood students patiently and carefully piping frosting onto cookies – future pastry chefs at work, perhaps? :) " -Kate Essex, Brainfood Volunteer
- Amy
Click here to read about Saturday's White House visit
Click here to read about Brainfood's Halloween visit - MUST READ!