Brainfood Community MVPs
Who are Brainfood Community MVPs?
DC teens building leadership and voice for youth in the food movement, empowering the community to be educated eaters, and teaching the District to cook healthy food, one delicious workshop at a time.

Brainfood Community MVPs is a year-long program that gives Brainfood graduates the opportunity to take their cooking and leadership skills out of the kitchen and into the community. This 8-month program teaches returning Brainfood students how to develop and facilitate hands-on workshops on healthy cooking. During the fall participants will design workshops and refine their teaching techniques. In the spring, participants will identify community groups who are in need of food education resources and schedule times to deliver their workshops at on and off-site locations. Participants will also be paid for their work as community teachers.
Our class of Community MVPs is taking now taking requests for cooking workshops in 2013!
Interested in having Community MVPs teach a hands-on cooking workshop for your organization, neighborhood, school, or rec center?
We've got a fully mobile kitchen and a staff of enthusiastic youth food educators who are ready to prove that D.C. teens can lead the way to building a stronger, community-based food education network, one delicious workshop at a time.
Connect your neighborhood, organization, or group with fun, free, hands-on cooking by signing up today.
Questions about Community MVPs ? Contact Maeve Rafferty: maeve@brain-food.org
Some recent adventure stories from our pilot year of Community MVPs...
A Classroom Adventure: Workshop #2 features slimmed down chicken broccoli alfredo with DC Scores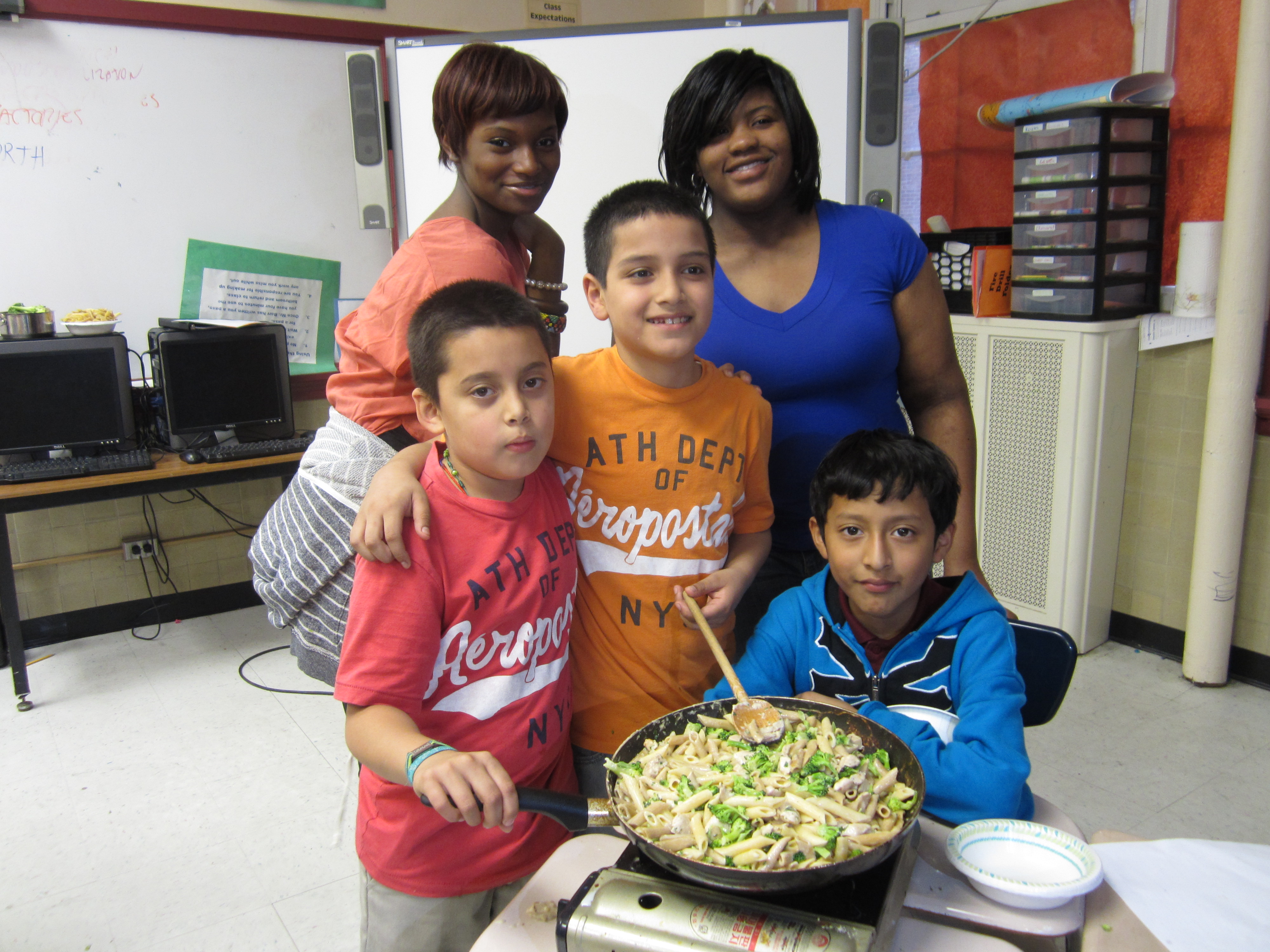 Who says a middle school classroom can't also be a kitchen? MVPs were up to the very unique challenge of teaching 20 youth from the DC Scores program how to cook a healthier version of this popular dish in a MacFarland Middle School classroom. How did our low-fat sauce and whole wheat pasta go over with the DC Scores youth? And how was teaching in a classroom? Read the DC Scores take here, and the Brainfood blog here.
Adventures in Writing : Brainfood MVPs win Youth Service America grant for their "Chefs' Playtime Project" proposal
The beginning of March also marked an exciting first for Brainfood: the Community MVPs class was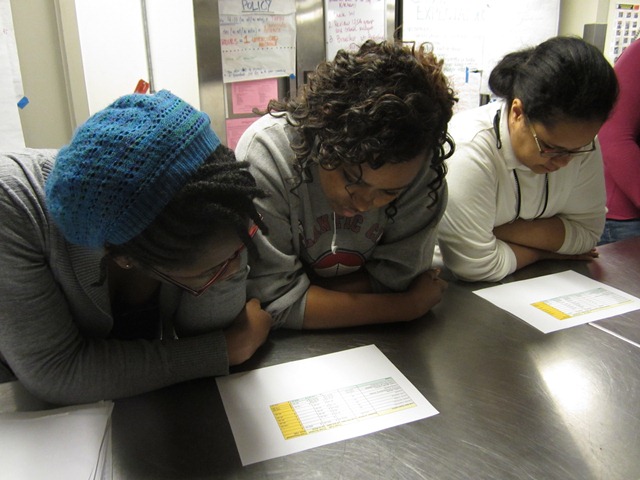 awarded with a Youth Service America grant to support a project to raise awareness around childhood hunger. The grant funded the Chefs' Playtime workshop that MVPs developed to serve youth in the Playtime Project. The process of brainstorming and refining a youth-written grant was a completely new experience for participants and staff, and we're so proud that MVPs were recognized for their hard work and commitment to providing opportunities to learn about healthy cooking to underserved communities. Check out our blog post or our mention in this Market Watch article.
Dressed for adventure: Community MVPs get their coats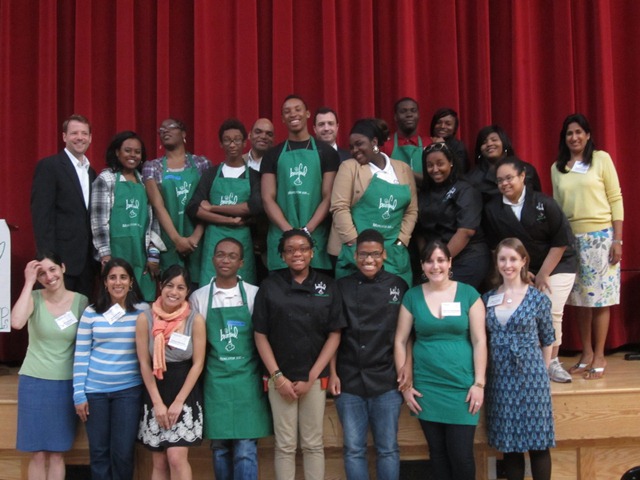 Black coats with green "Community MVPs" lettering marked our class's transition to being community teachers as a part of our first MVPs Coating Ceremony. Brainfood board members were on hand to present coats to 11 out of 19 students who had reached 60 hours with the program. The celebration concluded, as all celebrations should, with homemade pizza and cookies.
Venturing into a dialogue on poverty and hunger in DC: Food Access Panel features three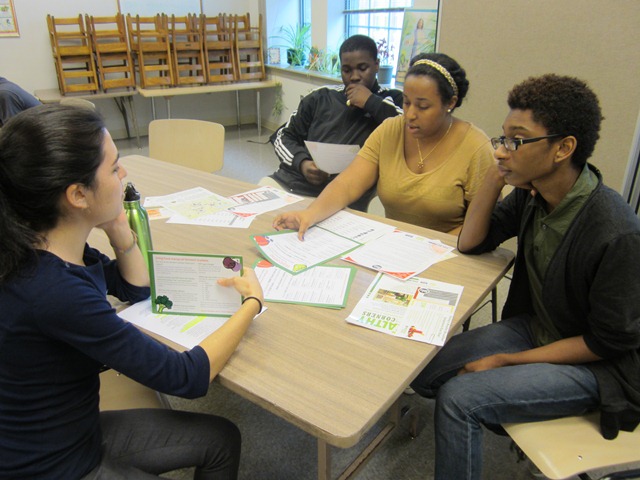 excellent panelists
What do a refurbished school bus, a corner store, and a wireless debit machine have in common? Each of these things represents a DC-based initiative aimed at helping citizens access healthy, fresh, affordable food. Thanks to Karli, Ben, and Jessica, from DC Central Kitchen, Arcadia, and FRAC, for presenting to our MVPs class about how organizations and individuals can fight hunger in DC.


Adventures in dough kneading and vegan baking: Workshop #3 with Playtime Project is a success!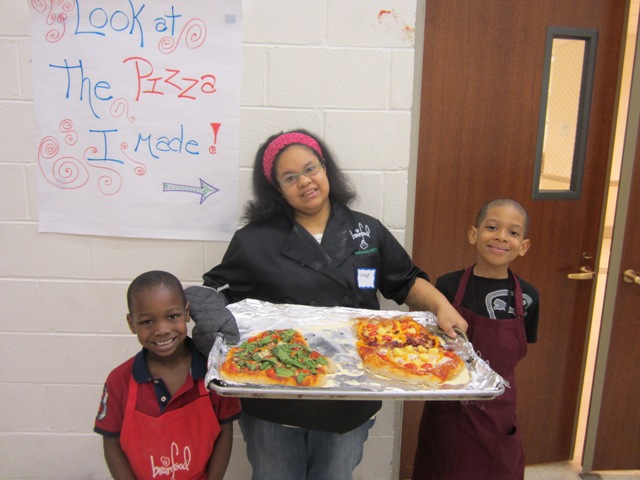 The much-anticipated Chefs' Playtime Project was a hit! MVPs worked with Playtime Project youth to make whole wheat pizza dough, and then stretch, top, and bake their pizzas. For dessert, students mixed up vegan chocolate chip cupcakes and marveled at how beautiful their pizzas turned out. Playtime Project volunteer, Ari, said "This was quite possibly the best community event I have ever been involved with - it was incredible to have MVPs who look like our children teach them such an incredible skill as learning how to make healthy food."

Adventures with friends...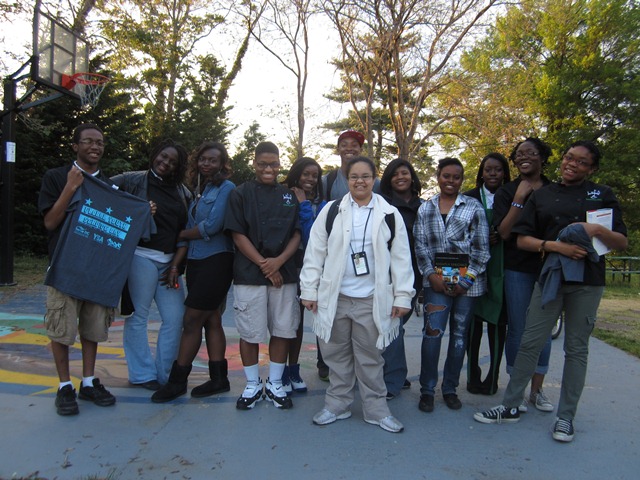 The MVPs participated in two separate events for Global Youth Service Day: an event with Sasha Bruce house and Youth Service America and an event with DC Scores. In April they participated in a combined event called Our Plate with LAYC Peer Health Educators and Mary's Center SWAG (Safety and Wellness Awareness Group). The event was an opportunity for teens to network with other peer educators, skill-share and learn about health and nutrition topics that were important to them. It was the first time that Brainfood had hosted a partner event featuring teen educators. Community MVPs did a bike blender workshop and also taught participants how to make a healthier version of chicken broccoli alfredo.
During their Global Youth Service Day projects the MVPs demonstrated how to make Tofu Berry Smoothies to DC Scores and Sasha Bruce house participants. The bike blender proved to be a hit!! Take a peek for yourself in the MVPs Bike Blender Video.


Summer Adventure: Tour de Farmers' Markets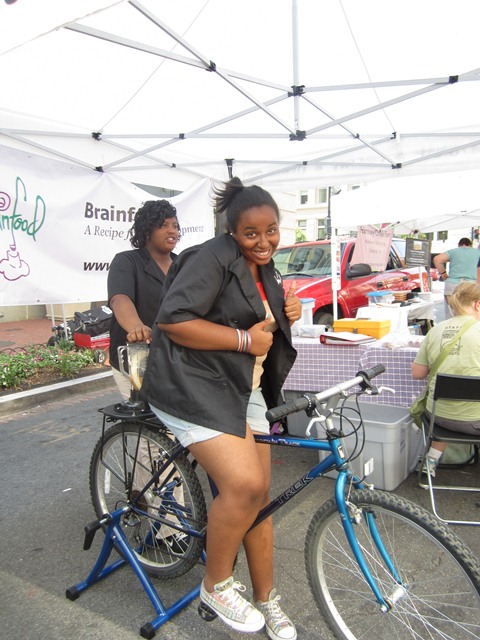 The MVPs have been busy this summer! They have presented a total of 5 demos featuring our trusty bike blender at farmers' markets around the city. Some of the demo recipes include black bean burgers, tofu berry smoothies and a garden fresh salsa. A big thanks to the hosting farmers' markets and for donating produce and inviting Brainfood to be part of the market. You can read more about each demo on our blog. Or, check out this write up of the MVPs demo at Columbia Heights Community Market Place!
Contact Carina Gervacio for more information or to schedule a workshop this spring!