Bike Blender: Carrying Out the Brainfood Mission
By guest blogger, Julie Smith, Summer Intern
Our mission to promote healthy living has reached new levels with our bike blender! Not only are we making delicious and healthy recipes with the bike blender, but we are also incorporating exercise into our programing. It does it all: health, fitness, and fun.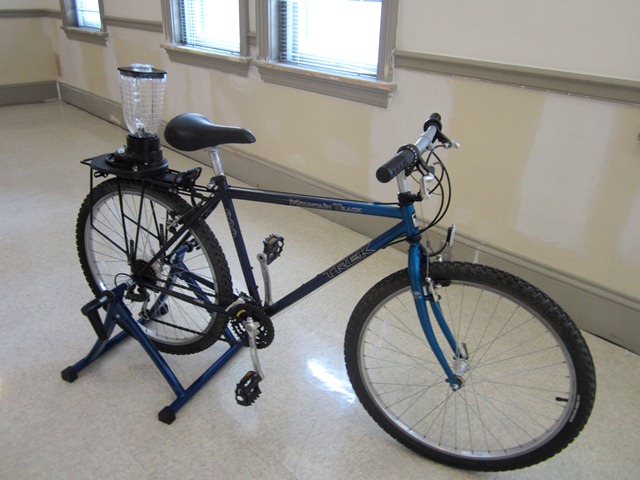 Wondering how it works?
Thanks to Rock the Bike and their bike blender system, we have transformed an old bike into a human-powered kitchen tool. Best of all, it is easily transportable and can be used anywhere since no electricity is needed.
We have been putting our bike blender to good use this summer, both in the kitchen and at our farmers' market demonstrations. The Community MVPs have made refreshing Tofu Berry Smoothies at both the Penn Quarter Fresh Farms Market on July 5th and the 14th and U Street Farmers' Market on July 14th.
This past week, the MVPs traveled to two other farmers' markets.
On Saturday, July 28th, they went to the Columbia Heights Farmers' Market and tried out a new bike blender recipe: fresh tomato salsa. With delicious heirloom tomatoes donated to us from four different farms, the MVPs chopped the ingredients on site and recruited volunteers to blend everything together. Thank you, Dragonfly Farms, Licking Creek Bend Farm, Pleitez Produce, and Whipple Farms for providing the tomatoes that helped make our salsa so tasty.
On Thursday, August 2nd, Armonte, George, Da'Shia and Nigel, four of the Community MVPs, met up for their last summer demo at the White House Fresh Farms Market. Another successful market demo with our fresh tomato salsa recipe! As many of the customers were out on their lunch break from work, they were hesitant to get on the bike in dress pants and skirts, but we got a few enthusiastic participants to hop on. It was a great farmers' market demo to end on for the summer and new batch of Community MVPs will be back later this year for more Brainfood demonstrations.
Want to learn more about the Community MVPs and our bike blender?
We have created a new video to showcase this year's accomplishments of our Community MVPs with bike blender workshops and demonstrations. Click on this link to check it out: Brainfood's Bike Blender.