The MVPs Returned on July 5th to Make Smoothies at Penn Quarter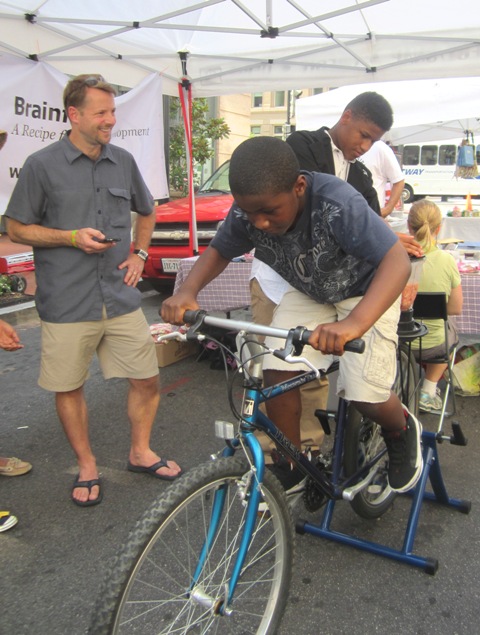 This post contributed by Brainfood summer staffer, Julie Smith.
Da'Shia, Sudi and Armonte were back at it again on Thursday, July 5th for the MVPs second farmers' market demo at Penn Quarter Fresh Farms Market. With the DC heat in full force, this time they came prepared to make something cool and refreshing: tofu berry smoothies! The smoothies are not only healthy and completely vegan, but they were also made with our very own human-powered bike blender. The bike blender was a fun way for everyone to get involved in making the smoothie.
The rest of the Brainfood staff also came by to participate in the workshop, as the Penn Quarter market is just around the corner from the Brainfood's Chinatown office. Amy and Cody both had a great time blending the smoothies on the bike.

Many of the customers who tried our smoothies were surprised that it tasted so delicious with tofu was an ingredient in the drink. As the MVPs explained, the tofu helps maintain the thickness of a smoothie without using fattier milk-based products such as yogurt or ice cream (the recipe is especially great for those who are lactose-intolerant!). Children especially loved this refreshing drink, coming back for seconds and even thirds.
The MVPs will be back again on Saturday, July 14th from 11 AM – 1 PM for another smoothie farmers' market demo at the 14th and U Street Farmers' Market.