MVPs host Chefs' Playtime event for Global Youth Service Day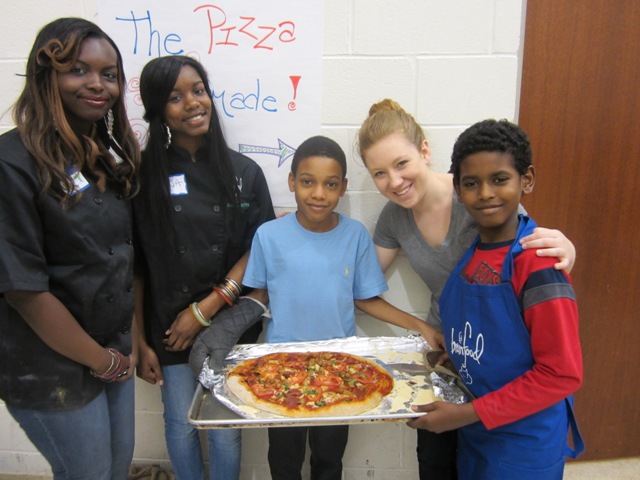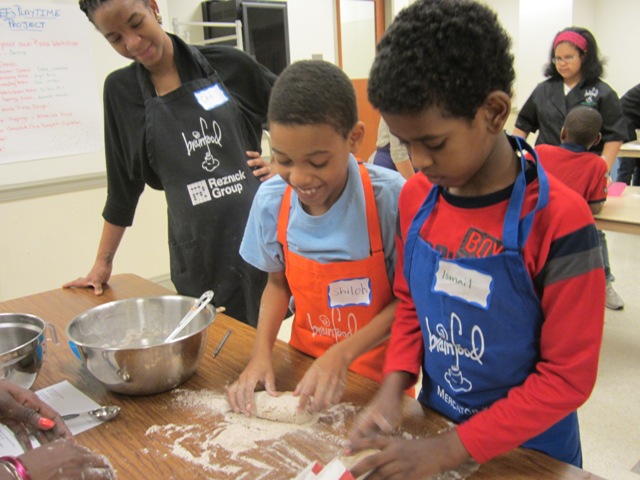 Even the rain couldn't stop this group of enthusiastic chefs.
They waded through hoards of rabid cherry blossom tourists, braved the positively gloomy weather, and arrived at our Chinatown site with one thing on their mind: pizza. And they were in for a treat, because this was a pizza-making workshop unlike any that Brainfood staff or students had ever hosted before.
This particular pizza workshop had been in the works since early December when the Community MVPs class submitted a grant proposal to Youth Service America about an idea they called "Chefs' Playtime" that they hoped to host as part of Global Youth Service Day. For Chefs' Playtime', our class of community food educators would host youth participants from Playtime Project, a Columbia Heights-based non-profit that provides enrichment programs for youth in temporary housing programs, and teach them how to make healthy whole wheat pizzas from scratch.
Youth-serving organizations and city representatives from DC Public Schools, and the Office of Youth Engagement have long struggled to generate an accurate snapshot of the homeless youth population in DC. While a census of the homeless youth population is essential to framing how unstable housing contributes to the achievement gap, health disparities, and economic inequity among youth, challenges such as underreporting and the difficulty with reaching a transient population have hindered comprehensive efforts. A recent report from DC Alliance of Youth Advocates notes that an initial estimate found that 1,169 youth in the DCPS system reported that they lacked stable, secure housing, but report authors acknowledge the need for better polling systems. In the meantime, one thing remains clear: there's no denying the need for more programming and enrichment opportunities for this specific population that may not have access to safe, structured learning environments at home and in school.
So when Playtime Project youth arrived at the Chinatown site to make pizza, there was quite a lot on the line for our group of newly-coated Community MVPs. Could they provide a positive, dynamic model for youth-led education on healthy cooking and eating? Could they work and relate to this particular population of youth? And what happens when 11 year old makes pizza dough for the first time?
As it turned out, the workshop was the perfect combination of hands-on fun and satisfying, healthy food. Playtime Project youth jumped right in, kneading like pros and choosing topping combinations that would impress the most creative of chefs. Community MVPs responded in kind by allowing their junior chefs to take the lead, stepping in to demo or offer advice, but letting the Playtime Project youth do the fun stuff. We marveled at how yeast pellets bloom when added to warm water; we laughed as enthusiastic pizza-stretchers managed to turn small disks of dough to pizzas the size of manhole covers; we even looked the other way when our guest chefs adding extra chocolate chips to the Vegan Chocolate Chip Cupcakes. (After all, nothing says 'special event' like extra chocolate chips.)
Playtime Project volunteer, Ari noted, "This was quite possibly the best community event I have ever been involved with - it was incredible to have MVPs who look like our children teach them such an incredible skill as learning how to make healthy food." And other Playtime Project participants appreciated the opportunity to have pizza that "wasn't made in a microwave" and was healthy and delicious at the same time.
Our community of pizza-makers provided a powerful model of what community engagement can look like in DC, and I look forward to even more opportunities to be proud of the amazing strides that the Community MVPs make towards creating a culture of community-based food education and transforming the way DC cooks and eats.