Connecting to our Roots...Through Dessert!
Last week , we teamed up with our fabulous, generous friends at Poste Moderne Brasserie for a unique new fundraiser event: the Sugar Showdown. The event featured some of DC's top pastry talent getting together for a friendly competition and guests enjoying an evening of sweets and bubbly on the patio, all to benefit Brainfood. These amazing chefs whipped up imaginative, seasonal desserts for judges and guests to sample, and we all got to cast our votes for the winner. Guests enjoyed champagne and small savory bites by Poste chef Kyoo Eom, along with the phenomenal treats featured in the competition, and a wonderful time was had by all.
Of course, these chefs couldn't make just anything! We all know a cooking competition is no fun without a limiting parameter or challenge of some kind. The theme for the Sugar Showdown was both literal and conceptual in nature, and it's a concept that I found extremely compelling: roots. The chefs interpreted this to mean culinary roots, family roots, community roots and actual roots -- as in, root vegetables. So what's a dessert chef to do with the theme of roots? Well, these contestants had some pretty creative solutions: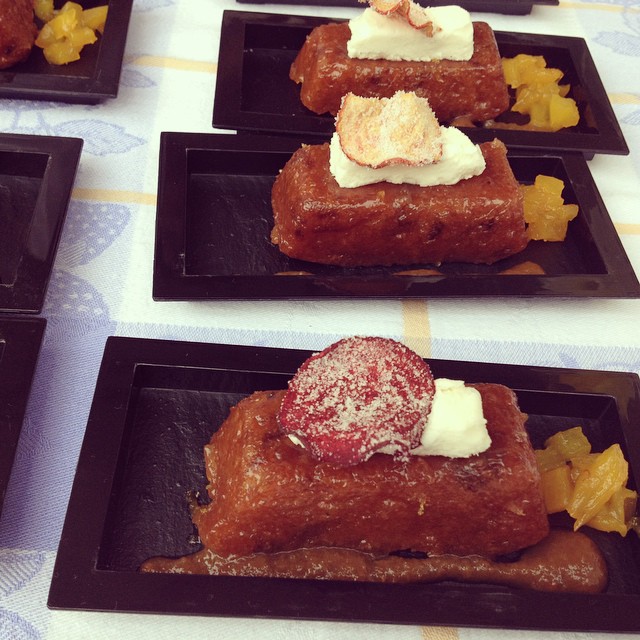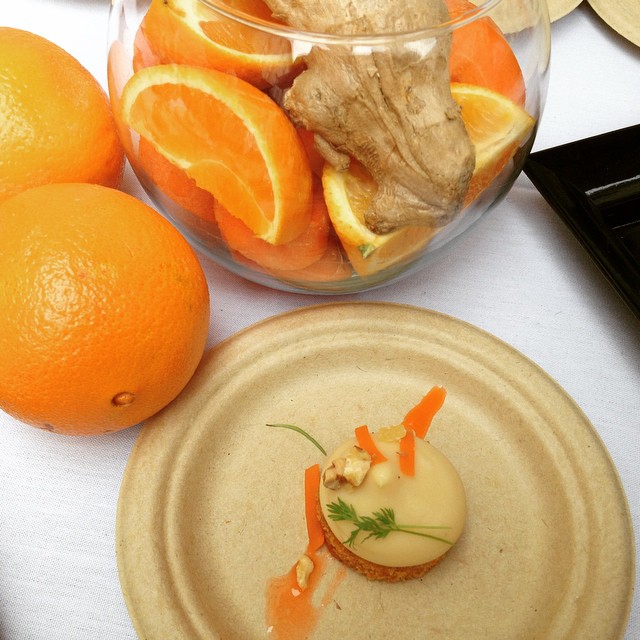 Poste Moderne's Casto Unson, served a purple yam éclair with candied kumquat and rosemary oolong tuile, which he explained that his dish was inspired by his Filipino heritage and the flavors profiles of the cuisine he grew up with. Trummer's On Main's Deborah Brown served a carrot pecan cake with a citrus glaze and a cream cheese parfait (plus a salted beet chip as a garnish!) and her display table included an old heirloom cookbook, yellowed and frayed, opened to the page of the cake she featured. Chef Caitlin Dysart of the restaurant 2941 served a ginger root budino on a carrot walnut cake with carrot confit, which was the crowd favorite, winning the "people's choice" award of the evening. Meredith Tomason of Rare Sweets spoke about the Italian side of her family using pistachio in many desserts, which she featured as a garnish on her chilled rhubarb soup with vanilla bean and licorice root semifreddo, the dish that won the "judges choice" award in the competition.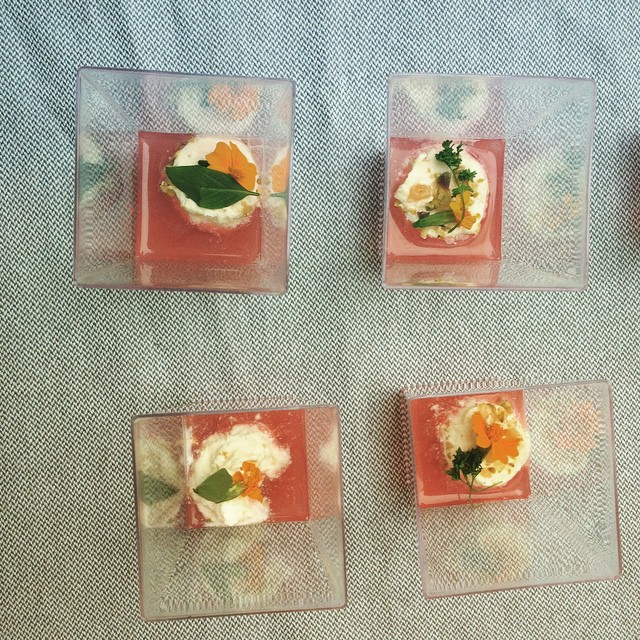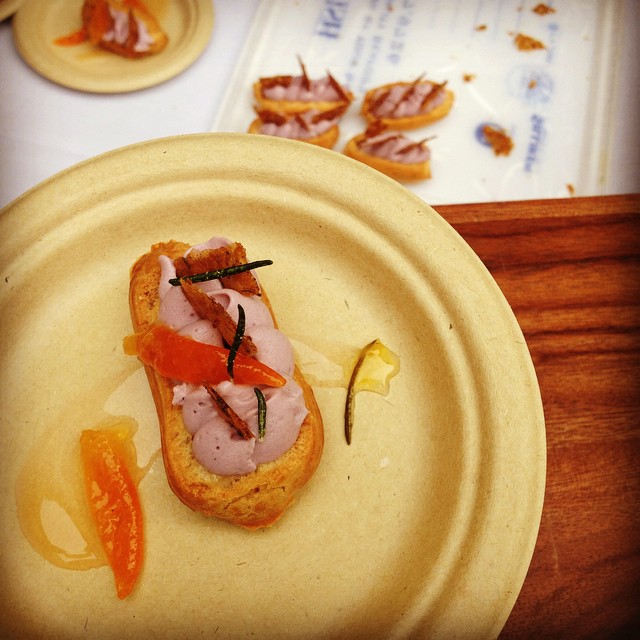 The chefs presented these imaginative treats with thoughtful, whimsical reflections on their culinary training and experiences, family and background, and affinities for certain ingredients. I adore the concept of roots-inspired cooking, and not only because flavors like sweet potato, beet, and carrot are among my favorites in the world. I also just love the idea of imagining and creating a dish inspired with multiple layers of meaning and story, so if course it got me thinking about what my concept would be. Letting my imagination run with this fantasy, and I've envisioned myself in an alternative reality where I'm a dessert chef rather than a program staffer at Brainfood (a swap I would never want to actually make for longer than a five minute thought experiement!) faced with this same challenge. I came up with the roots-inspired dessert I would make in this competition, and I thought I'd share it with you all and invite you to think of your own. Mine would be a sweet potato panna cotta, served atop a slice of dense, dark , sticky honey cake and garnished with dark chocolate shavings and thin strips of candied ginger.
Sweet potato is my all-time favorite food, and is also the North Carolina state vegetable, my birthplace and lifelong home until my relocation to D.C. a couple years ago. Honey cake is a fond childhood memory for me: the classic treat for Rosh Hashanah (the Jewish New Year), which was one of my favorite holidays growing up. The panna cotta is a nod to my mom, who loves all things custard: panna cotta, crème brulee, flan, etc. has always been her ideal category of dessert. And the dark chocolate and candied ginger is in honor of my dad: a person who largely lacks a sweet tooth but does have a major exception for dark chocolate, and who ceremoniously enjoyed a single piece of candied ginger after dinner every evening for years.
So there you have it: my roots-inspired dessert fantasy! I must say I'm pretty pleased with my concept. Now if only I had the skills to execute it as expertly as the chefs last Thursday did…
What would your roots-themed dessert be?