But It's a Tradition!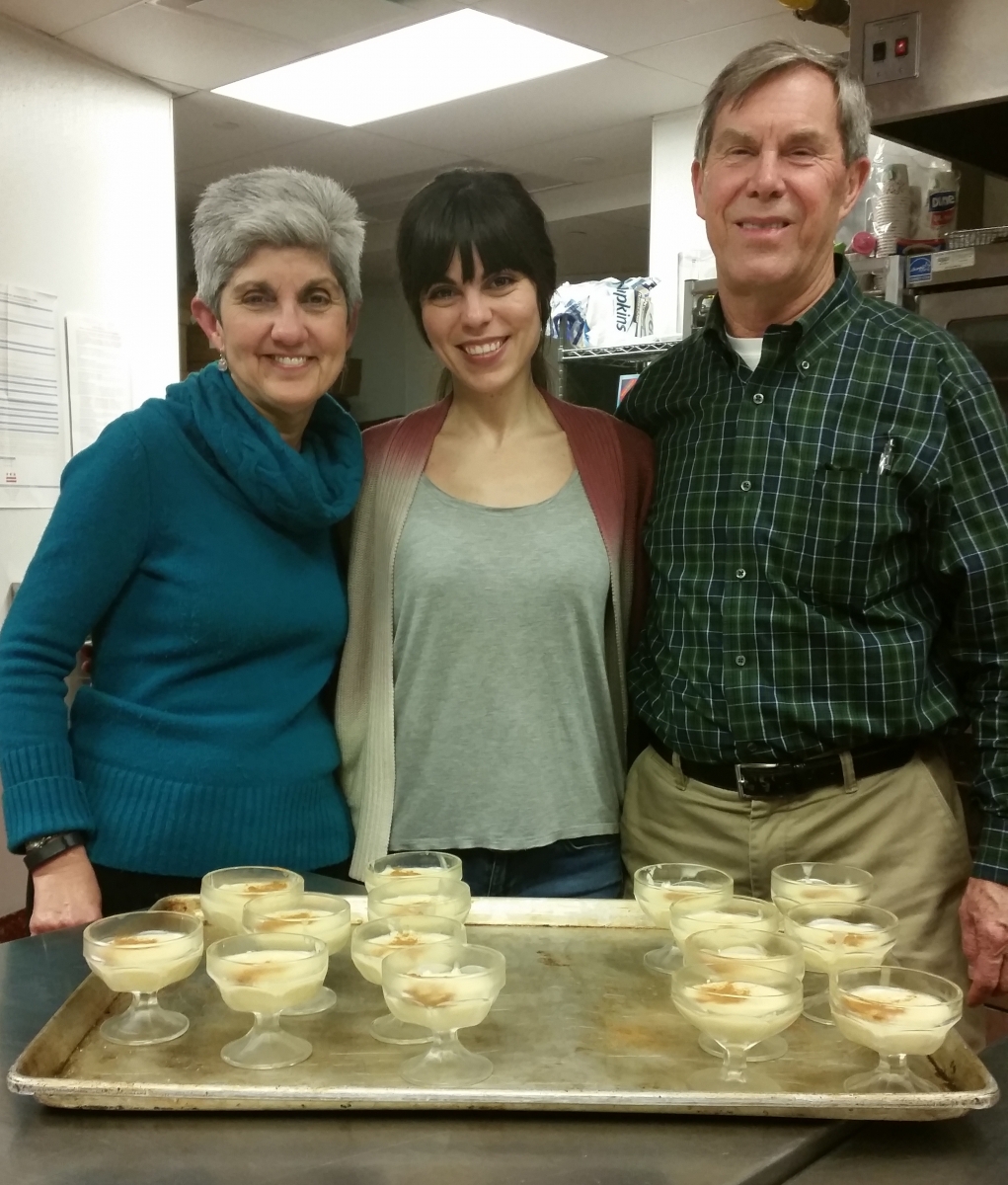 I started thinking about the importance of food traditions one night after one of my favorite Brainfood classes, led by Community MVPs weekly classroom assistant, Ceci and her mom, Fina (her dad also made a guest appearance just in time to taste the food). Ceni and Fina, who are both Cuban, taught MVPs how to make delicious Arroz con Pollo, Tostones with a garlic sauce, and Natilla. When it came time to eat, with each bite of a new dish Ceci would say, "This reminds me of my childhood so much!" Even Fina had to admit that the Arroz con Pollo made by MVPs was better than any version she has made- quite a testimony to how awesome our MVPs are. Class ended with students interviewing each other about their family's food traditions, which got me thinking about my family's food traditions.

My mom and dad are both
German, which means at any given family event there will be foods with sugar and vinegar, meat, potatoes, and more sugar and vinegar. German potato salad is at every family event regardless of the season; except Thanksgiving- a tradition my grandmother will not budge on despite pleas from anyone who's ever tried her potato salad. My other favorites include sour beef and dumplings, rouladen, and deviled eggs. Food traditions not only bring you closer as a family, but can also bring a community together through local cuisine. As a native Marylander, you start eating crabs before you can walk and learning how to pick them not long after because, let's face it, no one wants to pick a crab for someone else. Steaming and eating crabs can be an entire experience on its own from trying to catch live crabs that are scurrying across your kitchen floor to spitting out a crab shell and it accidentally falls into someone's drink. I always look forward to great conversation over a large pile of steamed crabs.

All this talk about tradition made me think about my favorite Brainfood traditions. I have racked my brain and come up with my top 4 favorite Brainfood traditions.
4. Group Expectations: If you've ever attended a Brainfood class, you know the first thing on the agenda is group expectations. It is a great way to transition from the after school chatter that students are engaging in when they come through the door to the focus required during a Brainfood class. Students each say one thing they will work on during class from a list that has been generated by students, from trying a new food to being respectful when others are talking. It's a great way for students to hold themselves accountable to the kind of positive behaviors and attitudes that make Brainfood great.
3. Garden Trips: I started two summers ago at Brainfood as the Garden intern, so Brainfood's Youth Garden holds a special place in my heart. Unfortunately, not all of our students feel the same way. Don't get me wrong, they love that we have a garden and MVPs always tell the audience when we have an ingredient from our Brainfood garden, they just don't necessarily want to be the ones doing the harvesting. Every year each class has the ever-so-coveted Brainfood Youth Garden field trip. I can remember helping out during last year's when students made a massaged kale salad with both kale and kale flowers from the garden. Students were not thrilled about putting flowers in their salad, but after some encouragement from staffers they gave it a try. And much to their surprise, they loved it. That's what I love about our students - their willingness to try just about anything. It's great to see that willingness extend to the garden.
2. The Amazing Food: I can honestly say that of the foods I have tried (nut allergies prevent me from trying some dishes) there has never been one I haven't liked. Sure during the beginning of the year things didn't always look like they should, but the taste was always on point. When students made sushi, I ate so many leftovers I couldn't even think about sushi for weeks, but I didn't care because it was just that good. Before Brainfood, I never really thought about trying new foods, but I was committed to trying as much new food as possible when I became a weekly classroom assistant. Our students' skills and creativity continue to grow after each class, both in and out of the kitchen.
1. Daily Coffee Reminders from Carina: My all-time favorite Brianfood tradition has been a running joke since I started. I've never been a big coffee drinker, which is my way of saying I don't drink coffee. When I first told Carina this, she made it her mission to convert me into a coffee drinker. It started off as subtle coffee questions like, "Sure you don't want any coffee from Starbucks Micheley?" It has now grown into a daily reminder that you are supposed to have a cup of coffee between the hours of 11am and 2pm. I'll never see myself having a cup of coffee at the office, but I can't help but smile when Carina looks up from her computer and says, "Micheley guess what time it is? It's coffee time!"
Having traditions with family, friends, and even co-workers is so important. Traditions are a way to break from the craziness that is our every-day life and remind us how important it is to spend time with those who are close to us. I know I can get so wrapped up in my technology-filled world, so it's nice to take a step back in time and enjoy the food that I love with the people that I love.