Who We Are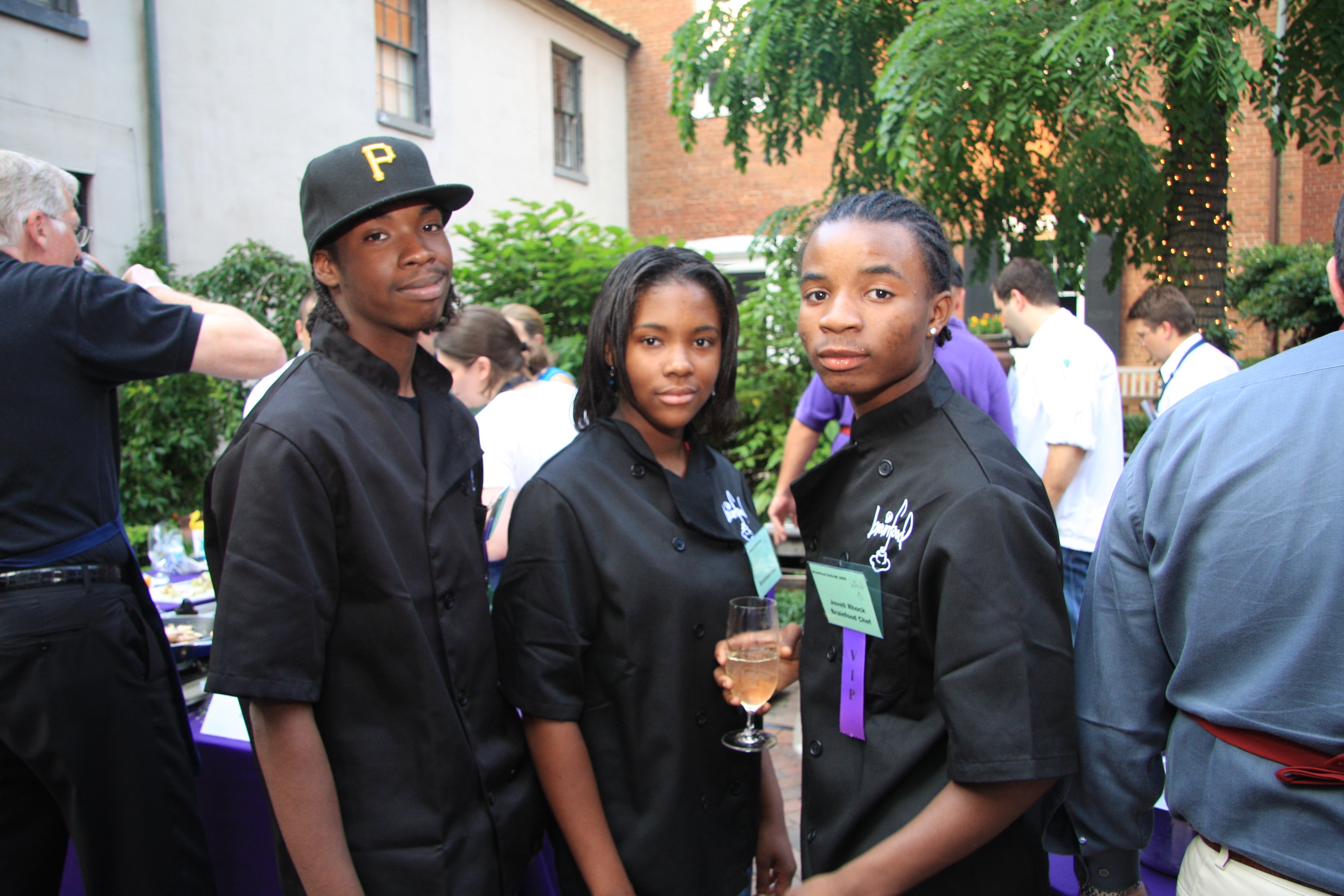 Brainfood is a non-profit youth development organization based in Washington, DC. Brainfood has been a community presence in the Columbia Heights neighborhood for several years, and in the fall of 2006, a second Brainfood site was established in Chinatown. In the summer of 2012, we expanded to a third site, the Brainfood Innovation Center and Youth Garden at Mt. Vernon Square. The Brainfood kitchen is a place where young people come to have creative and constructive fun. We believe that supervised fun activities are a young person's right, not a privilege, and we have found that most of our students do not have access to such opportunities.
In keeping with these beliefs, we have created after school and summer programs that allow kids to be kids, while also challenging them to develop new skills and raise self-expectations. Brainfood is a safe place for teens to try new things, make mistakes, and grow. We reach young people through a positive approach based on one of the oldest and most universal of human traditions: food. Through listening, reading, shopping, measuring, chopping, whisking, roasting, cooling, collaborating, presenting, eating, cleaning and volunteering, Brainfood students learn life skills and have fun.
Brainfood is a program where high school aged youth can learn about food, nutrition, cooking, and jobs in the food industry through activities, games, restaurant visits, cooking in our kitchen, and working with guest chefs. Brainfood uses food as a tool to build life skills with youth in a fun and creative setting. Through culinary-related activities, we promote active learning, self-reliance and healthy living to empower youth as resources in their own community.

Brainfood currently offers the following programs:
Brainfood Kitchen All Stars is a year-long program (September - May) that introduces participants to learning life skills and leadership skills through food and cooking.
Participants attend classes 2 days/week (Monday & Wednesday or Tuesday & Thursday) from 4:00pm - 6:30pm.
This program is offered at our Chinatown and Columbia Heights sites.
Brainfood Community is a year-long program (September - May) where past Brainfood graduates use their leadership skills to plan, facilitate, and deliver healthy cooking workshops to the DC community.
Participants attend classes 2 days/week (Tuesday & Thursday) from 4:00pm - 6:30pm.
This program is offered at our Mt. Vernon Square site only.
Brainfood Summer Institute is a five-week summer program based on the content for our Kitchen All Stars program.
Participants attend classes 4 days/week (Monday - Thursday) from 1:00pm - 3:30pm.
This program is offered at our Chinatown site only.
Brainfood box project is a seven-week summer opportunity for Brainfood graduates to showcase their cooking and leadership skills by running a seasonal CSA operation.
Participants attend classes 5 days/week (Monday - Friday) from 1:00pm - 5:00pm.
This program is offered at our Mt. Vernon site only.
At Brainfood Homegrown, Brainfood graduates use their culinary talents and skills to produce top-quality, delicious, healthy snacks, that they then sell at our Brainfood Homegrown stand in Union Market, as well as at a growing number of distribution points throughout the city. Through Homegrown, D.C. youth are building professional skills with paid jobs, as well as connecting with the city's growing food community.

Brainfood History
Brainfood first opened its doors in 1999 to eight Washington, DC high school students. Founder, Suzanne Isack, created Brainfood with the goal of using food and cooking to provide high school-aged youth with supervised and structured activities during non-school hours. Initially, students participated in a twelve-week after-school program, consisting of cooking instruction, food-focused field trips, and guest speakers. The program took place in a borrowed kitchen and classroom at a local community center.
Eventually Brainfood expanded class size, added additional program components, invited DC chefs to get involved, and lengthened the program sequence to function year-round in order to meet the growing needs of the young people in the community. Part-time volunteers paved the way for full-time paid staff, and soon Brainfood expanded to a permanent kitchen space in St. Stephen's Church in Columbia Heights. In 2006, we grew again and expanded to a second site in Calvary Baptist Church in Chinatown, giving us the ability to serve twice as many youth. The Grill-Off, Brainfood's fundraising event that is modeled after the after school graduation, was also started in the same year.
In 2008, Brainfood was approved by DC Public Schools as a vetted organization, and expanded outreach to a new group of high schools. In the summer of 2012, we expanded to a third site, the Brainfood Innovation Center and Youth Garden at Mt. Vernon Square.
In May 2015, Brainfood Homegrown opened at Union Market. The top-quality, delicious, healhty snacks sold at Homegrown can now be bought there as well as at other providers throughout the city.
Today, Brainfood programs have the capacity to accommodate over 150 teens, served by staff who offer year-round, food-focused programming in 3 commercial kitchens. Program staff recruit at over 8 different DC public schools, and anticipate being able to serve even more DC students as Brainfood grows.