Volunteer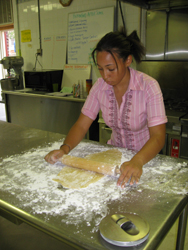 Brainfood operates with a small full-time staff, so we really depend on committed volunteers who want to make an impact with DC's youth. Depending on your schedule and interest, we have a few different opportunities to choose from.
We have three types of volunteer opportunities available at Brainfood:
Brainfood Classroom Assistant:
Classroom Assistants play an essential role in fostering participant growth, mentoring participants in the program, and creating a friendly community environment at Brainfood. Classroom Assistants attend Brainfood one day a week for the entire duration of the 8-month long program. They assist the staff with class preparation and work directly with our participants during the daily classroom activities.
Classroom Assistants can choose to work with either of the following classes:
Brainfood Kitchen All Stars -- Classes occur Monday – Thursday from 4 – 6:30pm at 2 of our program sites (Chinatown and Columbia Heights) from October – May.
Brainfood Community MVPs -- Classes occur Tuesdays and Thursdays from 4 – 6:30pm at our Mt. Vernon Square site only from October – May.
Classroom Assistants are expected to:
Be ready to help facilitate class
Be comfortable communicating with high school students
Be assertive and supportive
Love food and cooking
Be able to consistently arrive at their Brainfood site at 4:00 PM
Prior to working with youth, Weekly Classroom Assistants are required to:
Attend a New Volunteer Info Session
Attend a Classroom Assistant Orientation
Complete the Classroom Assistant Application
Submit current TB test results
Complete and "clear" required background checks through the National Sex Offender Public Registry, the DC Child Protection Registry and the FBI fingerprint-based check for the past ten years.
The majority of volunteers start their service with Brainfood in October and volunteer for the entire school year (October – May). Depending on need, additional volunteer spots may open later in the school year.
To apply to be a Weekly Classroom Assistant:
1. Fill out an application HERE and send to [email protected]
2. Attend a mandatory Volunteer Information Session.
RSVP to [email protected] to attend one of these sessions:
Monday, September 19 | 6:00-7 pm | Columbia Heights 1525 Newton St. NW
Wednesday, September 21 | 6:00-7 pm | Chinatown 733 8th St. NW
3. Attend our Volunteer Orientation Session.
After fall WCA recruitment, WCA Applications are accepted on a rolling basis and slots are filled as needed.
If you have any questions feel free to contact Amanda at 202-615-6182 or [email protected]
Brainfood Special Events Volunteer:
Special events volunteers are needed to assist with Brainfood activities or special events hosted by Brainfood or in which Brainfood is participating such as Open Kitchen Nights (held quarterly), Graduation, field trips, and/or fundraisers, such as Brainfood's annual Grill-Off.
Volunteers need to be flexible and enjoy working with a variety of people. Commitment and duties vary depending on the locations of events and activities.
To become a Special Events volunteer:
E-mail Amanda with your name, email address, and telephone number. You will then be added to the Special Events Volunteer Email list.
Guest Chef/Guest Speaker:
Guest chefs and guest speakers assists with Brainfood programs by serving as guest presenters who focus on a particular area of interest and/or expertise (scheduling is based upon availability).
For more information please visit our "Be a Guest Chef" page.
To become a guest chef/guest speaker:
E-mail Carina with your name, email address, and telephone number and topic that you would be interested in teaching our youth.