Community MVPs Kick Off their Summer Farmers' Market Workshops at Mt. Pleasant!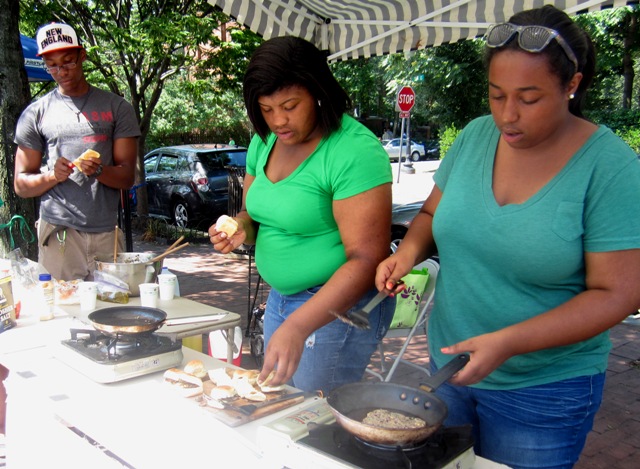 The Community MVPs are still in action this summer with a series of cooking demonstrations at local DC farmers' markets. Following their graduation of the program in May, the MVPs are continuing their involvement with Brainfood by sharing some of their healthy recipes to farmers' market customers.
Community MVPs – Da'Shia, George, Sudi, and Armonte – kicked off the summer workshop series on June 30th at the Saturday Mt. Pleasant Farmers' Market. The friendly atmosphere at the vibrant Mt. Pleasant market provided a great environment to have the first summer demo.
Braving the DC summer heat, the MVPs showed up eager to make one of their favorite recipes: vegetarian black bean burgers. With all their ingredients prepped and ready to go, they began making the patty mixture. The recipe included a combination of black beans, onion and corn for the base; red pepper, garlic, basil and cilantro to season; and bread crumbs, brown rice, and eggs to hold the black bean patty together.
Once the burners were on and the patties on the skillet, shoppers were immediately at table inquiring about what we were cooking up. Healthy, vegetarian burgers made of black beans? Free sample? Yes, please! People of all ages came by the Brainfood table to try these delicious burgers and were surprised to find how tasty a vegetarian burger could be. The recipe handouts were gone within the first hour of the demonstration. They were definitely a hit!
The MVPs had a great time putting all their expertise to good use by teaching people about this healthy recipe and sharing information about Brainfood. The first workshop couldn't have gone any better.